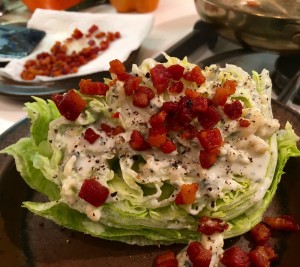 My Mom used to make a wedge salad for us knuckleheads. She made her own Russian dressing. It was so good!
But Selma Krapoff, our head of Slim Merchandise here at the Slim Shack, doesn't like Russian dressing. So when I decided to create the Slim Wedgie, I made a Roquefort dressing. You don't want to piss off Selma! She scares me.
You don't see Roquefort dressings much anymore. There's probably a reason for that. It's a pretty strong cheese, and it's pretty expensive. Roquefort cheese is not available everywhere; it's one of those cheeses that has to come from the Roquefort region of France, it has to be made in a certain cave, with the milk from a specific breed of sheep.
Seriously.
I prefer to use Bleu d'Auvergne cheese, also from France. It's milder, creamier, and less expensive than Roquefort. And most important, I love the way it tastes! She's a-so nice! I found it at Ralph's, the local grocery store here by the Slim Shack. You could also use gorgonzola, an Italian blue cheese.
A lot of recipes call for buttermilk and sour cream. I left them out of mine. Why? That's simple…it tastes much better without all that goo. I use four ingredients, that's it–cheese, mayo, white balsamic vinegar, and Meyer lemon juice. It's quick and simple. And molto delizioso!
You'll need one small head of iceberg lettuce. I used a local organic lettuce that was great. Make sure it's cold and crisp.
The crispy pancetta bits were a tasty topping. And if you want a little color, dice some red and yellow peppers, and sprinkle some around the edge of the plate. Or cut some colorful grape tomatoes in half, squeeze out the seeds, and spread 'em around the dish.
This is probably enough dressing for three people, but who cooks for three people? So, it's a very generous amount of dressing for two normal human being types. You'll probably have a leftover wedge of lettuce. You can use it as a door stop.
INGREDIENTS
1 small head iceberg lettuce, cut into wedges
For the Roquefort dressing:
¼ cup mayonnaise
1 tablespoon white balsamic vinegar
1 tablespoon fresh-squeezed lemon juice (half-lemon, I used a Meyer lemon)
½ cup Bleu d'Auvergne, Roquefort, or gorgonzola cheese, room temperature
For the sprinklings:
4 ounces diced/cubed pancetta
OPTIONAL:
2 tablespoons diced red and yellow bell pepper, or 6 grape tomatoes, halved and seeded
HERE WE GO…
This is gonna be quick and painless.
Cut the lettuce in wedges. You want them maybe 2 or 3 inches thick at the bottom.
Put all the dressing ingredients in a bowl.
Mix and mash. Mix and mash until smoovy-smooth. Set aside.
Put the pancetta in a dry pan over medium heat.
Cook for about 3 or 4 minutes, or until brown. Don't stir!
Flip it over, stir it up–try to brown all sides, about 3 or 4 minutes.
When the pancetta is brown, use a slotted spoon to put it on a plate lined with paper towels.
Now…take the wedge. You can lay it down flat, or keep it vertical. I suggest laying it down flat. The dressing stays on better that way.
Drizzle some dressing over the wedge.
Sprinkle with the pancetta.
Add some fresh-cracked black pepper.
If you want a bit of color, sprinkle some diced bell pepper, or a couple grape tomatoes on the edges.
And you've got the Slim Wedgie.
MANGIAMO!