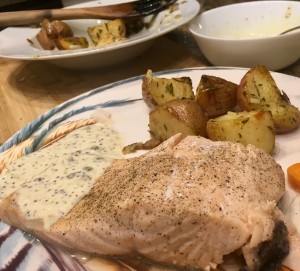 Poached Salmon Recipe
I've said it once, I'll say it a million times…Lady People love salmon. I once went out with a woman who ate salmon so often that she started growing gills.
The real challenge when cooking salmon for a bundle of femininity is to find new, creative, and healthy recipes. I've baked salmon, broiled salmon, sautéed salmon, blackened salmon, made salmon cakes, made pasta with salmon…but I never poached a salmon.
But when I was hanging out at the Slim Shack in Palm Springs, CA, and it reached 115 degrees, the thought of eating something hot wasn't very appealing. Plus, when you poach salmon, you don't use butter or oil or any of those things that the women folk like to stay away from. So I figured I'd try to poach some salmon.
My uncle Oscar used to poach salmon. I'd seen him do it many times. It's a simple dish, but he managed to make it look complicated. He used a whole salmon, which requires complex surgery afterwards to remove bones and stuff. He had a special fish-shaped poaching pan that was more complicated to assemble than furniture from IKEA.
I needed to try something a bit less complicated. So I used salmon filets instead of the whole fish, and I poached them in a regular old pot, like the one I use for soup.
The first time I made it, it was delizioso. I got lucky, I guess. But it needed a sauce to go with it. Oscar used to use homemade mayo, but I ain't going through all that. You start making your own mayo and pretty soon you're making your own refrigerator.
So I made a simple sauce, I used mayo (store-bought!), mustard, lemon juice, minced garlic and either capers or fresh dill. She was a so nice!
So here ya go, Slim Men and Women. Poached Salmon with a mustard aioli sauce…on the side, of course. The Women Folk like their dressings on the side, in case you haven't noticed.
NOTES:
The salmon has to be covered in water and wine. If it's not, keep adding 1 cup of water and 1 cup of wine until it is.
The mustard aioli sauce can be done three ways, actually. You can make it with just mayo, mustard, lemon juice, and garlic. Or you can add fresh dill. Or you can add capers. Have it your way, Slim People.
INGREDIENTS
FOR THE SALMON:
4 salmon filets (I used Scottish salmon, a little less than ½ pound each)
4 cups water (maybe more)
2 cups dry white wine (maybe more)
1 cup each—chopped carrots, celery, and onions (or shallots)
1 tablespoon whole peppercorns
Salt and freshly cracked black pepper
FOR THE MUSTARD AIOLI
6 tablespoons mayo
2 tablespoons Dijon or whole grain mustard
1 tablespoon lemon juice (Meyer lemons are the best!)
1 tablespoon minced garlic (minced fine!)
WE GOT OPTIONS…if you like dill, add a tablespoon or so of chopped fresh dill. If you'd rather have capers, add a tablespoon or two of capers.
Let's poach some salmon!
Salt and pepper the tops of the salmon.
Put the water and wine in a large pot, big enough to hold the fish.
Add the carrots, celery, and onions (or shallots).
Add the peppercorns.
Bring to a boil.
Reduce to a simmer.
Place them in the simmering liquid.
If the salmon is not completely covered, add a cup of water and a cup of wine until it is.
Simmer until the internal temperature of the salmon reaches 115 degrees, or about 10 minutes (or more, depending on the thickness of the salmon).
When the salmon is done, remove it to a platter, cover with foil and put it in the fridg to chill.
Let's make our aioli sauce!
Add all the ingredients into a small bowl, and whisk, whisk, whisk it up.
If you want to add dill or capers, toss them in the bowl, and whisk away.
Put it in the fridg to chill.
AND NOW…
After the salmon and aioli have chilled, pull them out of the fridg, and plate it up!
Put a piece of salmon on the plate, garnish with some fresh dill or parsley or capers, drizzle on some aioli sauce (ON THE SIDE FOR THE LADY PEOPLE!) and…
MANGIAMO!!!!!!!!!!