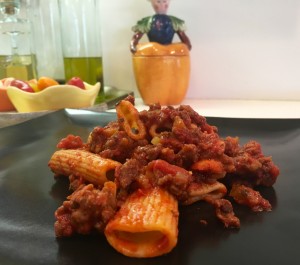 I was going to see my friend Marc Antoine for his birthday. I know he loves Bolognese sauce, but I didn't have 3 hours to cook it.
So I came up with a recipe that didn't take as much time.
This recipe only takes 1 hour instead of 3!
I cut down on the red wine, I used less tomatoes, and I cooked the vegetables for less time at a higher heat.
Wow. It was good.
NOTE: I used spicy Italian sausage. There was no need to add crushed red pepper. If you use mild sausage, you might want to add a ¼ teaspoon or so of crushed red pepper when you add the celery, carrots and onion.
INGREDIENTS
4 ounces diced pancetta (about ½ cup)
4 tablespoons olive oil
½ cup each—chopped celery, carrots and onion
6 cloves garlic, sliced thin (about 2 tablespoons)
1/3 cup dry white wine
1 pound Italian sausage meat (I used spicy/hot)
1 can tomato paste (6 ounces)
2/3 cup red wine
1 can Italian tomatoes (35 ounces) smooshed by hand, yellow core removed
½ teaspoon oregano
Salt and pepper to taste
1 pound rigatoni (or similar—penne rigate would work well)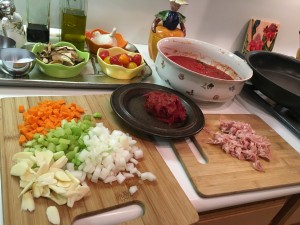 Here we go!
Take a large sauté pan, put it over medium heat for 2 minutes
Add the diced pancetta, let it brown for 4 minutes
Stir it up, brown for another 4 minutes—try to get all pieces to brown!
Remove the pancetta, set aside in a small bowl
Add 3 tablespoons of the olive oil
Add the celery, carrots, onion and garlic
Cook for 5 minutes, stir often
Add the white wine, cook for 5 minutes, stir often
Add the sausage, crumble it up, let it brown for 5 minutes
Give it a stir, brown for another 5 minutes—make sure it all gets browned!
Add the pancetta and stir
Add the tomato paste, stir and cook for 5 minutes
Add the red wine, cook and stir for 5 minutes
Add the tomatoes
Add the oregano and salt to taste
Cook for 30 minutes, stir every 5 minutes or so
Remove from heat
You're done!
If you're putting this over pasta, cook the pasta according to the directions on the box.
When the pasta is al dente—firm to the bite—drain it and put it in a large serving bowl.
Add a tablespoon of olive oil and stir.
Add a couple ladles of sauce, and mix it up.
Dish it up!
Put some pasta on a plate, top it off with a dollop of sauce, maybe sprinkle a little fresh grated Parmigiano-Reggiano cheese on top, and…
MANGIAMO!