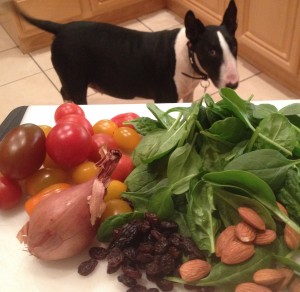 A lot of people ask me to sing at their weddings.
"Can you sing 'End of the Rainbow' as we walk down the aisle?"
My answer is usually…
Yes.  Yes I can.
A couple years ago, a young gal from Baltimore asked me to sing 'End of the Rainbow' at her wedding.  She had no budget.
I told her…"I can do it.  But if Lady GaGa asks me to open up for her that day; or if David Letterman calls me at the last minute to do the Late Show, I won't be able to.  If you can live with that, yes.  Yes I can."
The week before her wedding, as hard as it is to believe, Lady GaGa did not call.  David Letterman did not appear on my doorstep.
So I told her yes.  She was so ecstatic.  Ever since she saw me sit down at the piano and sing 'End of the Rainbow' at a concert in Annapolis at the Rams Head Tavern, it had been her wish for me to sing that song at her wedding.
I was thinking…I could walk in, sing "End of the Rainbow" and then get back to packing.
Packing?  Yes.  I was moving.  The day after her wedding, I was leaving Baltimore to move to Nashville.  A permanent move.  A big move.  The wedding was on a Saturday.  I was leaving Sunday.  I didn't mention My Big Move to the bride to be.  I figured she had enough on her mind.
A couple days before the wedding, we were talking on the phone about details when she said…
"You need to be on the boat by 11:00 AM."
Boat?  Pardon me…did you say "boat?"  Yes.  The wedding was a cruise around Baltimore…for 5 hours.  We would be out to sea the whole time, and there was no leaving the boat.  The thoughts that were running through my mind…maybe I could have someone pick me up on a Jet Ski after my song.  Maybe I could leap on to a passing barge.  Or borrow an inflatable boat, bring it on board with me.
I'm not a big boat guy.  I don't wake up in the middle of the night and say, "Damn!  I wish I were on a boat right now."
My Dad had a small fishing boat, a 17-footer with an egg-beater on the back.  That was fun.  But a big boat out on the open sea makes me a bit woozy.
I told the Bride of Baltimore that I'd be on the Love Boat bright and early.
That Saturday, I jumped in the Slim Vehicle, and drove to the Inner Harbor of Baltimore.  I parked my car, and walked a few blocks down to the water.  I had on my beige Hugo Boss suit and my brown suede Donald J. Pliner loafers.  Gotta dress big for a wedding!  I saw some folks boarding a small cruise ship—it held maybe 200 people.  I got on the boat at 11:00 AM.
I love weddings.  It's such a happy time.  Of course, fast-forward a few years, and the bride and groom are sleeping in separate beds.  His in Baltimore, hers in DC.
When I'm singing at a wedding where I hardly know anybody…that's a lot of fun.  Watching strangers go nuts at a wedding is fun.  Watching your own family go nuts at a wedding is enough to make you want to grab a dart gun and shoot somebody in the neck.
The Love Boat was all decked out in flowers and ribbons.  It was a beautiful spring day.  The sun was out, it was warm–but not too–and there was a slight breeze.  They had the ceremony on the top deck.  They exchanged their vows, walked downstairs…
And there I was…sitting at the piano.  I sang "End of the Rainbow."
After I finished, people were crying.
They were crying…"Don't give up your day job, Donkey Face!"
After I sang, I guess people needed alcohol.  My music usually drives people to drink. Folks were lining up at the bar.  After cocktails, it was dinner time.  I sat next to Annabelle.  I've known her for years.  Annabelle is a joy.  She is one happy woman.
Annabelle is married to one of my bestest amigos.  They haven't been together for ten years, but they never got divorced.  They live separately, but get along better than they ever did.  They're the best of friends.
Annabelle and I used to work together at a dive bar in Fells Point called the Horse You Came In On.  People in Baltimore go to Fells Point to drink.  She tended bar, I sang the blues.  My band was called the Scrappy Harris Blues Band.
Scrappy Harris was the barback at The Horse.  He looked like a skinny little homeless kid.  He smoked Marlboro Reds, drank Budweiser and was loud and boisterous.  Scrappy had a small apartment nearby that looked like a flophouse.  Bare mattress on the floor.  Old sheets nailed over the windows.  But Scrappy wasn't poor.  It turns out he was a trust fund kid.  Had a ton of dough.  He just liked being a barback, getting ice, stocking booze at The Horse You Came In On.
We named the band after Scrappy.  I wrote a song about him.  I also wrote a song about Annabelle.
"Annabelle…my sweet Annabelle, I'm going down to the wishing well…wish for a girl like Annabelle."
Annabelle and I had a blast at the wedding.  After dinner, a band played.  The guitar player was amazing, in a Stevie Ray Vaughan kinda way.  I got up and sang "Pride and Joy."  The band was really good.  Really good.
At the end of the shindig, Rob Fahey got up and sang "Raised on the Radio."  Rob was in a great Baltimore band called The Ravyns.  That song was a big hit for them.  It was used in the movie "Fast Times at Ridgemont High" with Sean Penn.
Rob sang his heart out.  What a way to end the wedding.
The Love Boat pulled ashore.  I said goodbye to Annabelle.  I walked up to the bride and groom.
They handed me an envelope.  Inside was a gift certificate for way too much money for my favorite Italian restaurant in Baltimore.
La Scala.
I had told them I would sing for free.  I'm a great guy, ain't I?  The gift certificate was unexpected, but much appreciated.  And very thoughtful.
I said my goodbyes, and started walking from the Inner Harbor to the parking lot.  On the way, a pickup truck drove by, splashed through a puddle, and splattered mud all over my suit and shoes.  It looked like…well, you can imagine.  Tan suit.  Dark brown mud.
I was getting strange looks as I walked back to my car.
I went home, changed, and walked Batu.  Then I went to sleep.  The next day, Slim Drummer John E Coale came over in his SUV.  We packed up everything into our two cars, and drove seven hundred miles to Nashville.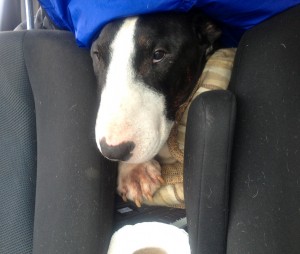 Batu was in the back of the car, his dog bed piled on top of all the boxes.
Goodbye, Baltimore.  Hello, Nashville
But wait!  There's more!
I got an email the other day…
"Can you sing 'End of the Rainbow' as we walk down the aisle for our wedding?  That song has been our song ever since we met."
He told me he was getting married Labor Day in Palm Springs.  I've been staying in Palm Springs for the past few months.  I wrote back and told him the same thing I told the Bride of Baltimore—if Lady GaGa calls at the last minute, I'd have to bow out.  He took it as a "yes."
He was so excited.  He wrote me back and told me he was going to keep it a secret–he wanted it to be a surprise for his partner, Jack.
Jack.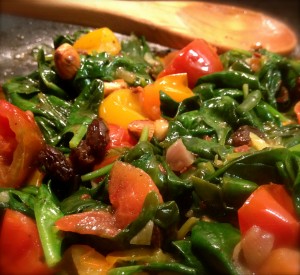 Spinach with Toasted Almonds and Raisins
A few things about this dish…
I used multi-colored organic grape tomatoes.  Why?
I saw them in the grocery store.  They looked real cool and colorful.  And they were inexpensive.
You can buy almonds already toasted.  But I like to toast my own nuts.  I used raw almonds, and toasted them in a dry pan over medium-high heat.  Do not leave your nuts unattended.  Nothing worse than burnt nuts.
I only cook the tomatoes for just a couple minutes, you don't want them to lose their shape or their skin.
And only cook the spinach for a couple minutes, just enough to wilt it.
Add the almonds and raisins last.  Because you don't want your nuts getting soggy, and you don't want the raisins to absorb all the sauce.
You can use dried cranberries instead of raisins, I've done that before, and it's a delish!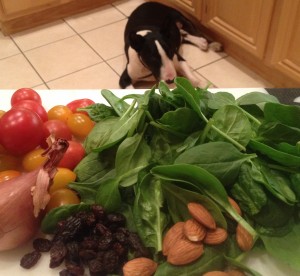 INGREDIENTS
2 tablespoons olive oil
Crushed red pepper
2 tablespoons chopped shallots
1/3 cup white wine
1 cup grape tomatoes, cut in half, guts and seeds squeezed out
8 ounces of baby spinach (I used organic)
2 tablespoons of raw almonds, chopped
1 tablespoon raisins
Salt to taste
HERE WE GO…
First of all, let's toast our nuts.
"Here's to you, nuts!"
Get a small saute pan.
Put the heat on medium-high.
Grab your nuts, put them in the pan.
Shake your nuts around until they're golden brown.
Put your toasted almonds on a plate.  Let 'em cool…
Put the 2 tablespoons of olive oil in a large saute pan over medium heat.
Add the 2 tablespoons shallots.
Add crushed red pepper to taste.
Cook for 2 minutes or so, stir every now and then.
When the shallots are almost clear, add the white wine, turn the heat to high, and let it cook off for 2 minutes or so.
Turn the heat to medium-low, add the tomatoes, cook for 2 minutes, stirring every now and then.
Add the spinach, cook for 2 minutes, stir it up!
Add the toasted almonds.
Add the raisins.
Give it a stir.
Serve it up!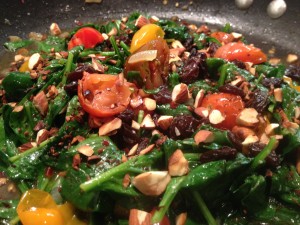 MANGIAMO!!!!!!!!