I grew up in Baltimore, Maryland, about two miles from Memorial Stadium. That's where the Baltimore Orioles played baseball. It's where the Baltimore Colts played football.
My brother and I were crazy about the Orioles and Colts. Our Uncle Oscar loved the Colts, took us to lots of games when we were kids. Fans at football games can get a bit rowdy. If you're a 10 year-old, it's good to have a sleeve to hang on to. Especially a sleeve connected to a guy like Oscar.
But baseball? It's a bit gentler, safer for a kid.
In the summertime, my brother and I would go to Orioles games by ourselves. We knew the players' names, jersey numbers, statistics. We collected Orioles baseball cards. We belonged to the Junior Orioles.
We did all this on our own.  It's not like our parents didn't care; they just wanted us to figure things out for ourselves.  So my brother and I just found our own way.
We'd get to the stadium anyway we could; walk, ride a bike, take the bus; we'd get there early—so we could catch batting practice. We'd stand out in the left-field bleachers with our gloves, two raggedy young kids, hoping to snag a batting practice home run. Or maybe a pitcher in the bullpen would throw us a ball. Anything.
Section 9 was our spot for baseball in Memorial Stadium. There were rows of yellow aluminum benches with no backs and no padding; when the weather was hot, it was like sitting on a stove, when it was cold, it was like sitting on a block of ice.  It didn't matter to us. We loved the O's.
My brother and I played little league baseball for years. My brother was really good; he got all the trophies. I wasn't any good, but I loved playing.
I still like throwing a ball around. I like batting cages. You stand in a fenced-in cage, and a pitching machine throws baseballs at you, and you try and hit them with your bat. My Dad lived in upstate New York.
Cooperstown—where the Baseball Hall of Fame is—is not far away. My Dad was an extra in a Tom Hanks baseball movie—A League of Their Own—that was filmed on the baseball field in Cooperstown.
The batting cages there were difficult—I tried the pitching machine that threw knuckleballs, and I didn't hit one good ball.
The next time I stepped into a batting cage, I hit two good balls.
My band BootCamp was playing in a rock club in Ocean City, Maryland, one summer and there was a batting cage in an amusement park right behind the club.
The afternoon before our Big Show, the drummer, Hit Man Howie Z, and our friend Roger—who would later name his son Brooks, after Brooks Robinson, Orioles third baseman—went down to the batting cage. We were the only ones there.
All I had on was a thin, baggy, nylon bathing suit and a T-shirt. It was the beach, it was summer. I grabbed a bat, put my money in the machine and stepped into the cage. This was hardball; I was staring at an 80 mile per hour fastball machine. I stood next to home plate, bat poised, waiting for the first pitch. It catapulted out of the machine, and screamed towards me.
I swung, and hit the ball with all my might. The ball shot straight down, hit home plate, and shot straight up like a rocket and hit me squarely in the you-know-whats.
I hit the ground like a sack of cement. I curled up in the fetal position, racked in pain, breathless. Fastballs were screaming over my head, smacking into the backboard, and bouncing all around. Hit Man and Rog were trying to grab me in between pitches, trying to avoid getting hit.
My legs wouldn't uncurl. They eventually dragged me—still curled up tight in the fetal position—by my feet, out of harm's way.
The BootCamp show that night was not as lively as usual. I sang while standing in one spot, all night long. I couldn't move.
But I did hit some high notes I'd never hit before.
In 1983, BootCamp sang the national anthem at Memorial Stadium for the Baltimore Colts football team. Not long after, the Colts moved to Indianapolis. I hope our rendition of the Star Spangled Banner didn't affect their decision. I thought we sounded great.
In 1986, BootCamp sang the national anthem at Memorial Stadium for the Baltimore Orioles baseball team. Earl Weaver, their long-time manager, retired a couple weeks later. I was starting to think maybe we were a jinx.
In 1992, the Orioles moved from Memorial Stadium to a new ballpark in the heart of downtown Baltimore, probably to get rid of the curse of BootCamp.  The new stadium was called Orioles Park at Camden Yards, and it was a beauty.
In 1995, I released the first Slim Man CD, End of the Rainbow. I wanted to take a copy to my dentist, who was also a friend.  Going to his office was like going to the Playboy Mansion; all the assistants looked like Playboy Bunnies and he was like Hugh Hefner–he even dressed in silk pajamas and ascots rather than scrubs and a mask.
I drove to downtown Baltimore, parked in an underground lot, and got in a limited access elevator–it only went to the top two floors.
Guess who got in right behind me? Cal Ripken, Jr., shortstop for the Baltimore Orioles. Rookie of the Year, 1982. Most Valuable Player, 1983 and 1991. I'd seem him play hundreds of times, but had never met him. I introduced myself, told him I was a big fan.
Cal Ripken, Jr. shook my hand. I gave him the End of the Rainbow CD that I was saving for my dentist. I told Cal it was my first CD; he gave it a look, and thanked me.
About five years later, the Orioles asked me to sing the national anthem at Orioles Park. I guess they were desperate.  I'm a patriot. I love the USA. And singing the anthem is an honor, plain and simple.
But the first time BootCamp sang it, the Colts left town. The second time we sang it, the Orioles' beloved manager retired. What next? The whole team gets abducted by aliens?
I practiced day and night for weeks. My neighbors probably thought I was either really crazy or really patriotic. Or both.  I tried singing the anthem every way I could.  I sang it slow.  I sang it fast.  I sang it half-fast, which is the way I normally sing.
The day finally arrived.  I got to Camden Yards that September evening, 2000, and a young woman from the Orioles office led me on to the field. The sky was cloudy, it looked like it might rain. Hit Man was with me, so was Roger. So was Griff, the guy who signed me to Motown—he's a huge baseball fan. My Mom, in her wheelchair, was in the stands nearby.
The players were standing by. I walked up to the microphone at home plate, the crowd stood on their feet, hats off, hands on hearts. The announcer introduced my name, and I started singing.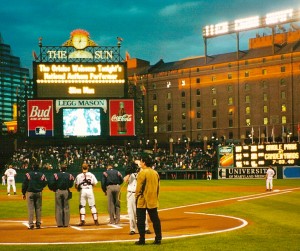 I did the Star Spangled Banner Slim Man style—low and slow. The woman who had led me on the field kept waving her arms in a circle, motioning for me to speed it up. She looked like a third base coach waving a runner home.
But, like Frank Sinatra, I did it my way.
I thought it sounded good. Nobody booed and nobody left, which to me is a successful gig. The anthem is not an easy song to sing. At least I remembered all the words.
When I finished, I walked by Cal Ripken Jr., who was warming up outside the dugout. I was hoping he'd come up, give me a high five and say, "Slim Man! That CD you gave me in the elevator is incredible."
He didn't. But he did say, "Nice job" as I walked by.
Thanks, Cal. I'm just happy to be here, hope I can help the ballclub.
And after I sang?  The Orioles didn't move to Maui.  Their manager didn't join the circus.  But the Orioles did make it to the post season…fourteen years later.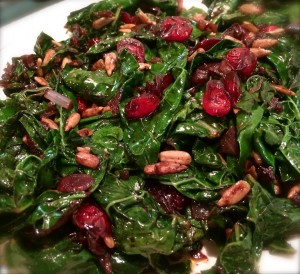 Italian Kale with Shallot, Port and Cranberries

I like sunflower seeds. Sunflowers are my favorite flowers.
When I'm at an Orioles game, I'll get a bag of salted sunflower seeds in the shell, and eat 'em while I watch a game.
One time, on the way back from a Slim Show in Santa Rosa, California, I stopped at a roadside fruit and nuts stand. I was thinking I might run into some of my nutty and fruity relatives there.
The Slim Family wasn't there, but there were bags of salted, roasted sunflower seeds, without the shell. I bought one. They were delish. I saved some…
I've been noticing a lot of Italian kale in the grocery stores these days, and not just the ridiculously expensive Whole Foods-type stores. Most normal grocery stores have Italian kale, it's called lacinato kale, most of it is organic and it's ridiculously inexpensive.
How inexpensive? A buck a bunch at my local grocer.  I bought some and took it back to Slim's Shady Trailer Park in Palm Springs, California.
Kale is so good for you. The only problem is it tastes like old hedge-clippings.
I cooked it in some olive oil and garlic, just to see what it tasted like. It was not as bitter as normal kale, but it needed a little something. I tried cooking the lacinato kale different ways. With tomatoes.  With red bell peppers.  With white wine.  Nothing was working.
One night I decided to cook it with some port wine. Why?  It was all I had!  I took a sip, it tasted great, so I added a 1/4 cup to the kale.  The sweetness of the port cut the bitterness of the kale.
It needed a little saltiness, so I added some sunflower seeds from the roadside stand. I added some dried cranberries, and it gave it some some color and a nice texture.
It was good. It was real good.
Notes…
You can use any sweet wine or port or sherry. Sweet vermouth would work, so would Marsala, or sweet sherry.
Cleaning kale is a pain. Here's how to do it: start at the top of the leaf. Start tearing by hand into strips, about an inch or two wide. When the stalk in the middle gets tough–about 1/3 of the way down the kale leaf–start pulling the leaves from the side of the stalk, and throw away the stalk.
Clean the leaves with cold water and spin dry. You need 4 cups.
Add the sunflower seeds and dried cranberries last–you don't want your nuts to get soggy, or the cranberries soaking up the port.
SERVES 2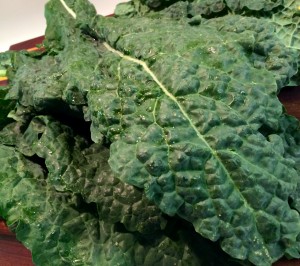 INGREDIENTS
1 bunch of Italian kale, also known as lacinato kale, 4 cups cleaned
2 tablespoons chopped shallot
3 tablespoons extra virgin olive oil
Crushed red pepper to taste
¼ cup of port (or any sweet dark wine—Marsala, sweet vermouth)
¼ cup dried cranberries
2 tablespoons salted roasted sunflower seeds
Salt
Here we go…
Put the olive oil in a large sauté pan over medium-high heat, and let it heat up for 2 minutes.
Add the 2 tablespoons of chopped shallots, and crushed red pepper to taste, and cook for a couple minutes, until the edges of the shallot start to turn golden brown.
Add the port, or whatever wine you're using. Turn the heat to high, and let it cook off for a minute or so.
Reduce the heat to medium. Add half of the kale.
Cook and stir until the kale wilts, a couple minutes.
Add the rest of the kale. Cook and stir until the kale wilts, a couple minutes. Add a sprinkle of Kosher salt, stir.
Add the dried cranberries and stir.
Add the sunflower seeds and stir.
Taste for salt and adjust.
Dish it up!
This is a great side dish, I made it with chicken piccata, and it was a delish.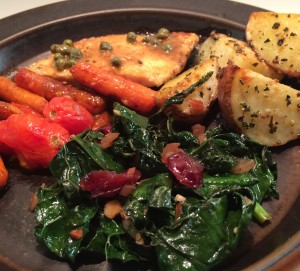 MANGIAMO!!!!!!!!!!!