When the first Slim CD, End of the Rainbow, was released, it initially did nothing. No sales, no airplay, no gigs. For weeks and weeks, there was a whole lot of nothin' going on. Then it started getting some radio play.
I was playing piano at a dive bar in Baltimore, Maryland, called The Horse You Came In On. The bar phone would ring, the bartender would answer and then call out to me, "That was your Mom! You're number 37!" The next week, "You're number 29!"
Suddenly, it went Top Ten, sold tons and tons and was widely acclaimed–not only in the US, but Europe, Japan and Australia. It happened right quickly. That first Slim CD, End of the Rainbow? It done did good, all the way around.
The second Slim CD? Not so good. It was widely ignored by just about everybody, except some Slim Family members who bought copies out of sympathy. Closer to Paradise—that's the name of the second Slim CD, by the way—seemed to take me Further from Paradise. It started off slowly, and then petered out, so to speak. It never caught on.
I recorded the first two Slim CDs at my friend Cowboy Pickles' studio. It's a small spare bedroom with great gear–microphones, amps, speakers. Some amazing sounds came out of that little room. It was very comfortable.  But for the third Slim Man CD, I decided to swing, and swing big. It was time to get out of the comfort zone.
It was time to go for it.
I decided to record Slim CD #3 in a real studio in Manhattan, a place called Sound on Sound. Eric Clapton recorded there. If it's good enough for Eric, it's good enough for Mr. Man. Sound on Sound was like a luxury hotel with a studio on the side.
There were more assistants than musicians. Assistants who took orders for food, assistant engineers who kept track of everything, assistants who tuned guitars, set up drums, moved pianos, brought you coffee.   They did everything but carry you around from room to room on their shoulders.
I hired a producer, Carl Griffin. Carl had signed me to Motown years before. He produced my Motown CD. Griff had recently produced B.B. King's Live at the Apollo CD, which earned B.B. and Griff a Grammy. So I got Grammy-Award-winning Griff to produce the third Slim CD. Grammy award-winning producers don't come cheap. I could've bought a car! Well, a really small used car, but still…
I decided to dig deep and have some guest stars on the CD. So I hired Rick Braun to play trumpet (Sade), Marc Antoine to play guitar (Sting), Everette Harp on sax (Kenny Loggins), and Chieli Minucci to play guitar (Jennifer Lopez). Each one cost a pretty penny. I brought in my friend Questar, a brilliant sound engineer, to do sound. I hired a professional photographer to shoot the CD cover.
In other words, I hired the best people I could find, I recorded in one of the best studios in Manhattan, and basically went deep into the Slim Pockets to do Slim Man #3.
I called the CD Secret Rendezvous. It was released in 1997, in the spring.
Right after it was released, I got notice from our distributor that they were declaring bankruptcy. They owed us $54,000. They had sold lots of Slim CDs. But they hadn't paid us in a while. And now we weren't gonna get paid at all. I was counting on that money to pay for the very expensive Secret Rendezvous CD I had just recorded.
I tried to find another distributor, but nobody would touch us because the Slim CDs were now tied up in that bankruptcy.   So Secret Rendezvous, and the first two Slim Man CDs just sat there in limbo. My hands were tied. My CDs were tied up. It was a crushing blow. I had to take a step back.
That's when Carl Griffin called and asked me if I was still writing instrumental music. While Carl and I were working together at Motown, a few years prior, he would ask me every once in a while to write an instrumental piece–a sax song, a piano song, a flute song. So I wrote a few instrumentals while I was a songwriter at Motown. Griff pitched them to Grover Washington, Jr. and a few others, but nothing happened.
But I was still writing instrumentals. So I sent some of them to Carl, while the Slim Man CDs were tied up in the bankruptcy. He loved the songs. Griff suggested that I do a whole CD of instrumental music. So I did.
I asked my friend Joe Ercole to help produce the CD, and play some keyboards. He's an amazing pianist and producer—he graduated at the top of his class at Berklee School of Music. Joe was writing and producing jingles for TV and radio; he had developed a very successful jingle company.
Joe had hired me to sing jingles before. I did the John Sebastian sound-alike for Ford Motor Company's "Welcome Back" TV ad campaign. I did jingles for Mobil, the Maryland Lottery, PBS and a ton of others. The pay was great. And Joe's productions were stellar. I thought he'd be a great fit for the project.
Project? Project sounds like work. This wasn't work. It was fun.
Joe and I started working together. Most of the songs we wrote were funky, up-tempo, jazzy stuff that had a little hump to it. Joe wrote half the songs and I wrote the other half. We recorded them in his home studio, an immaculate place in the basement of his home outside Baltimore. Joe played keyboards, I played bass, Kevin Levi played sax.
When we did our promo photo, I put on a fake moustache. I kinda liked the way it looked. Plus, I needed a little separation from the Slim Man thing. Maybe folks wouldn't recognize me…
When we finished the CD I sent it to Carl. He loved it. He asked me what the name of the band was. I didn't know. But I came up with a name soon after.
At the time there was a sax player named Boney James who was doing well. There was also a band named Down to the Bone that was hitting it big. So I thought that anything with "Bone" in the name would be a good luck charm.
So I named the band Bona Fide.
Carl signed Bona Fide to his label; the first CD was named Royal Function, and the label's radio promoter picked the first single, a song called "High Street." It did next to nothing. I was surprised when the record company decided to go with a second single, since the first one had failed so miserably. But they did. Carl picked the second single, a lively little number called "X Ray Hip."
I named the song after a guy who played basketball at the University of Maryland, and later played for the Harlem Globetrotters. His name was Exree Hipp. I thought it was a cool name, so I used it as a song title.
Carl had a good history of picking hits when he was at Motown. He had found an old Stevie Wonder demo, "Until You Come Back To Me" and placed it with Aretha. He found another old unpublished Stevie song, "Tell Me Something Good" and placed it with Chaka Khan and Rufus.
"X Ray Hip" was released and suddenly nothing happened. Again. For weeks, nothing. But eventually, it started climbing the charts…and it kept climbing and climbing. It went all the way to Number One.
My first Number One song. It spent one glorious week at Number One on the jazz charts. Nice. The CD started selling like crazy. Big gigs were coming in. Bona Fide was taking off.
We won the Best New Artist award at the Smooth Jazz Awards that year.
The first Slim Man CD was a big step forward. That bankruptcy was a big step back. The Bona Fide CD was a big step forward. The way I see it, it's not such a bad thing, it's more like a cha-cha.
Cha-cha-cha!
Show Biz is like a rollercoaster ride. When you first start, you feel all excited and nervous, in a good way.
Then, you get turned upside-down and inside-out. You get flipped over and you flip out.
One second you're flying blind through dark tunnels, the next you're sky-high, going a million miles an hour. You're exhilarated and scared to death at the same time.
Then, the ride's over, you feel sick to your stomach, and you wonder why you ever did it in the first place. Then you get back on the ride and do it all again.
That's Show Biz, kids. Gotta love it.
Flaming Limoncello Sauce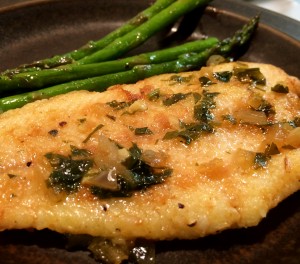 When your career is going down in flames, nothing like a little flaming limoncello sauce to help things along.
When I was a kid, I loved to read biographies. My Mom gave me a whole set called Childhoods of Famous Americans. They had titles like, Tom Edison, Boy Inventor. Abe Lincoln, Frontier Boy. I loved to read, and for a while there, I loved fire. Fireworks, bonfires—I felt an attraction to flames when I was a kid.
My Mom told me they should write a biography about me…Slim Man, Boy Pyromaniac.
It was just a phase. I didn't burn any houses down, but I did set fire to my cousin's bedroom floor once…accidentally.
When I'm cooking, I like the occasional explosion–as long as it's intentional! A little Cognac or vodka set on fire…it's a cool crowd-pleaser. As long as nobody catches on fire.
When I first thought about this sauce, I couldn't wait to try it. I like limoncello. It's a bit sweet, a little sour, and it's got alcohol in it. Set it on fire, and it shoots flames in the air. What's not to love?
Seriously? Be careful, my Slim People. I hate losing fans!
Notes:
I did not add salt and pepper to this sauce. Give it a taste after it's done, if you feel like it needs a little something, add some salt and fresh cracked black pepper.
I put this sauce over fish. I've used it over baked salmon. It's delizioso that way. But my favorite? Sole or flounder, both are from the same fish family, they are light and flaky and delicato.
I dust each filet with a little flour that's been salted and peppered.
I sauté them in a tablespoon of butter and a tablespoon of olive oil over medium-high heat for about 2 minutes per side, or until they are crispy and golden. Golden!
Then I pour a LITTLE sauce over top of each filet and eat pronto!
INGREDIENTS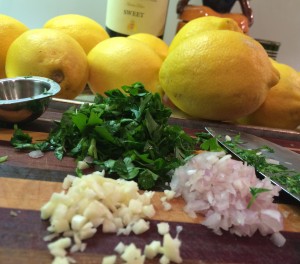 2 tablespoons of butter
2 tablespoons olive oil
2 tablespoons minced shallot
2 tablespoons limoncello
1 tablespoon minced garlic
1/3 cup dry white wine
½ lemon (about a tablespoon of fresh squeezed lemon juice, NO SEEDS!)
1 tablespoon fresh Italian flat leaf parsley, chopped
Here we go…
Heat the butter and olive oil in small pan over medium-high heat.
When the butter starts to bubble, add shallots and cook for 2 minutes.
Add the limoncello.
Grab a long-handled lighter, put on some asbestos gloves and light up the limoncello! Watch the explosion. BE CAREFUL!!!!!!
When the flames die down, add the garlic, cook for 2 minutes, stir or swirl often.
Add the white wine and cook for 2 minutes, stir or swirl often.
Add the lemon juice and the parsley and cook for a minute.
Done!
Drizzle a LITTLE bit over a piece of baked salmon or sautéed sole and…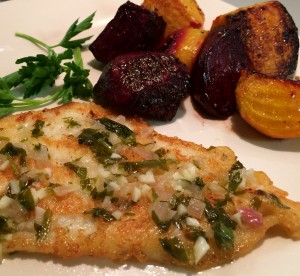 MANGIAMO!!!!!!