I was conceived on the Isle of Capri.  That's what my Mom told me.  She would know…I hope!
Capri is an island off the coast of Italy.  I've never been there.  Well, I guess I was there once a long time ago, but not in my present form.
I was born in Baltimore, Maryland, soon after my folks arrived from Capri.  Couldn't they just have stayed on Capri for a couple decades?
My folks loved music.  My Dad liked blues and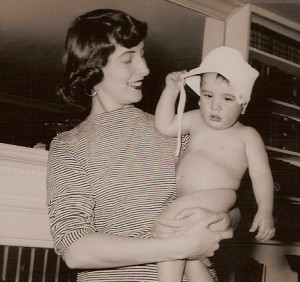 Dixieland jazz, my Mom loved everything.  When I say everything, I mean everything.  Miles Davis, Chet Baker, Nat King Cole, Isaac Hayes, Aretha Franklin, Bonnie Raitt, Ella Fitzgerald, The Band, Dylan, Joan Baez, Hank Williams, Sr., The Beatles, Stevie Wonder, Marvin Gaye, Norah Jones, Anita Baker, Gladys Knight…I could go on and on.
I guess I just did.
My Mom turned me on to so many great artists.  She once took me to see Gladys Knight and the Pips, and I was floored.  The music, the dancing, the songs, her voice…amazing.
My Mom was the one who encouraged me, pointed me in the right musical direction.  She never bought me anything.  I mean, she bought me clothes and food and stuff.  She'd have been arrested if she hadn't.  She worked really hard, but never had a lot of money.
So I always bought my own instruments.  I worked, I saved, I bought a guitar.  I worked, I saved, I bought a bass.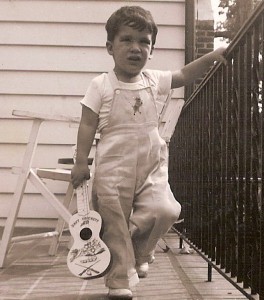 For the first six years of my life, we lived with my Dad's Mom, Angela.  We lived in the basement of her house in Baltimore.  I wrote my first song in that basement…it wasn't much of a seller.
We moved into a house a couple miles away on Rosebank Avenue.  It was a great old house, what they call a "fixer-upper."  It had an upright piano in the dining room.  The previous owners had built the room around the piano, and when they moved, they couldn't get it out.  So they left it there.  Lucky me.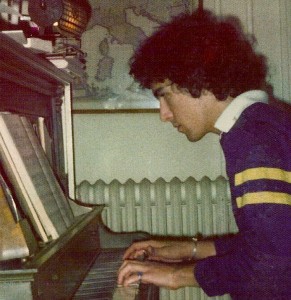 I fixed it up.  It, too, was a fixer-upper.  I took the piano apart.  I painted it black.  I replaced the keys with new ones.  I put it back together.
I was already taking trumpet lessons.  Once a week, my Mom would take me down Greenmount Avenue, and I'd study trumpet with Mr. John at a place called Freitag's.  I absolutely loved Herb Alpert, and made him do all the duets with me.
I used to read comic books.  In the back, they had these advertisements for seeds.  No, it wasn't marijuana seeds.  It was vegetable seeds.  You could send away for seeds, sell them to your neighbors, and after you sold a certain amount, you could redeem your points for prizes.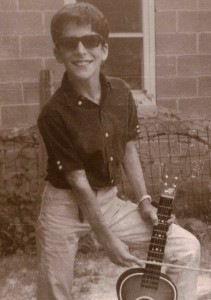 One of which was a guitar.  I learned how to play by ear.  It would have been a lot easier if I had used my hands…
So there I was, a little kid, playing guitar and piano and trumpet.  My Mom was the one who kept steering me in the right direction.  I can imagine all the horrible sounds that she had to put up with.  It ain't fun listening to a kid practice.
She used to let my band practice in the basement.  My Mom was such a saint.  We weren't any good when we started.  But we got better…and better.
Pretty soon, we were playing out.  My first gig was playing guitar and singing some Beatles songs at the sixth grade graduation.  I was in fifth grade.  Roland Park Elementary School.  Some of the happiest days of my life.
How did I get so miserable?
My first real band was called Momma Max.  We were doing a lot of original music—I always wanted to write songs—that sounded like Iggy Pop meets Alice Cooper.
And we looked like them, too.  Lord knows what my Mom was thinking.  But she just let me be me.  She had patience.  Somehow she knew I'd hit my stride.  It took a while!
My Mom was there through every phase.  She encouraged me to learn.  I went to Peabody Preparatory, a classical music school for kids.  After my regular school, I'd catch the bus downtown and go to Peabody.
I started asking my teachers to help me with my songs.  One of my teachers, Jack Thames, was a huge help.  He taught me all about chords, and structure.  I took private piano lessons from a jazz guy in the basement of his house.  Bob FIelds.  He showed me all the jazz chords.  I studied voice with a guy named Dan Moore.  He taught in the basement of a church close to the house on Rosebank.
I found the teachers, I learned what I needed to learn, I started writing songs, and going into the studio.  I started going to Manhattan, pitching my stuff, and finally caught a break.
When I got signed to Motown as a songwriter, my Mom was ecstatic.  One of the first songs I wrote for Motown was "Summer Days" which got recorded by Angela Bofill on her debut CD.  It got rave reviews, and did really well.
The success of that CD led Motown to offer me a recording contract.  So I started working on my first album.  My Mom could not have been more proud.
I worked for a year on my Motown debut.  I wrote songs, I wrote charts, I sang and played and recorded and mixed until it sounded just right.  I was waiting for a release date when the VP in charge got fired.  My album is still sitting on a shelf somewhere at Motown, it never got released.
My Mom encouraged me to get back on the horse.
So I started a rock band.  I was still under contract to Motown, and wanted out.  I figured if I did some screaming rock music, they'd let me go.  And that's just what Motown did.
Stiff Records was a punk-rock label that had offices right downstairs from Motown's Manhattan headquarters.  Stiff liked the rock music I was doing, and called the band BootCamp.
We did some videos for a new network that was about to make its debut, a network called MTV.  BootCamp had two of the first hundred videos ever played on MTV.
BootCamp had a good run, about six years.  We had "development" deals with just about every major label, but nothing popped.  My Mom liked the band, and was proud of what we'd accomplished, but she always thought I should be doing what I started out doing…quiet, soulful, pop songs, sung low and slow.
So that's what I did.   Slim Man was born!  Or reborn.  I was getting back to my Angela Bofill days…that laid-back, somnambulant Slim Sound.  The Slim SchnoozeFest!
When the first Slim Man CD was released, my Mom was there.  She was about the only on in the joint!  It was a roaring failure.  Nobody came out.  Well, sixteen people showed up.  I was convinced the CD was gonna sink like a stone in the sea.
But my Mom kept my spirits up, kept encouraging me.  The CD ended up going Top Ten for the year.  The Slim Man thing has done pretty well since then.  My Mom was a huge Slim Man fan.  She came out to almost every show.  Even in the snow, even when she was sick.
She had this horrible disease called Supra Nuclear Palsy.  Your motors shut down.  So it's hard to move your mouth or tongue, it's tough to chew, to swallow.  It was difficult for her to even close her eyes.  But her mind was still as sharp as ever.
You could show her a photograph from when she was a kid and she could tell you when and where.  It was difficult to understand what she was saying, because it was so tough for her to talk, but she knew.
The other thing about my Mom?  She never complained.  Not once did I hear her say, "Why me?'  Not once.  I rarely say "never", but I never heard her complain.
If that were me, I would have been screaming bloody murder.  Not my Mom.
I once got an advance from a record company, and spent it on a TV and a stereo for my Mom.  All she could do was lie in bed and watch TV and listen to music.
She loved the Slim Man stuff.  She knew every song.
I once did a cruise.  A German record company organized it.  I flew to Germany, and practiced with the band.  Then we flew to Jamaica, and got on the cruise ship.  We were going to cruise the Caribbean, then cross the Atlantic, and cruise the Mediterranean.
Not a bad gig.
The first night on the ship was a night off.  I had dinner at the incredibly huge buffet, and then nestled into my tiny little cabin.
Early the next morning I got the phone call.
My Mom had died.  I was crushed.  I couldn't stop sobbing.  The Germans, they are a pretty stoic bunch.  I guess they must have been pretty concerned about me, because they had me off that ship within hours.  I took a small boat to a small airport on a small island.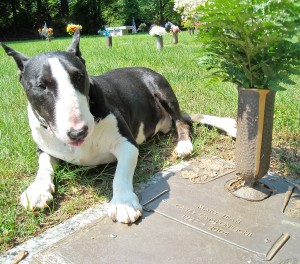 How small?  The airport had no walls.  Just an old tin roof.  They did have a small sound system.  I was listening to the music, trying to make sense of what had just happened, when a song of mine came over the tiny PA.
How that happened, in that little airport, on that tiny island in the Caribbean, I'll never know.  The song was "Night Like This."
I picked up my cell phone and called the first person I always called when something like that happened.  My Mom.
Except she was gone.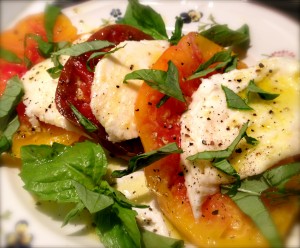 Caprese Salad
Insalata Caprese, that's what the Eye-Talians call it.
It's my favorite salad.  Yes, I was conceived on the Isle of Capri, where this recipe comes from, so I am partial.
But this salad is so quick and easy and delicious.
There is only ONE THING you have to remember.
Every ingredient has to be the best.
The tomatoes have to be ripe and luscious.  The olive oil has to be extra virgin, or at least one that hasn't been pole-dancing at the club every night.
And this would be a good time to splurge for bufala mozzarella.  Yes, it's expensive.  But it's really, really good.  Take out a second mortgage, if you haven't already.  Break open the kids' piggy bank.  This is the one time to dig deep and fork it over.
Bufala mozzarella comes from water buffalos.  When my Uncle Oscar told me this the first time, I didn't believe him.  Water buffalos?  Where the hell are they keeping these animals?  I've seen dairy farms.  I've seen cows and goats and sheep.
But I've never seen a water buffalo.  Not in the USA.  Not anywhere.  The first time I saw a photo, I was intrigued.  How do you milk a water buffalo?  Who knows.  Maybe that's why it's so expensive.  But I love the mozzarella that comes from those crazy-looking beasts.
I used organic heirloom tomatoes.  They weren't expensive, and they were so fresh and ripe and colorful and tasted like heaven.
Some people use balsamic vinegar as well as olive oil on their Caprese salad.
I prefer using just olive oil.  But what the hell do I know?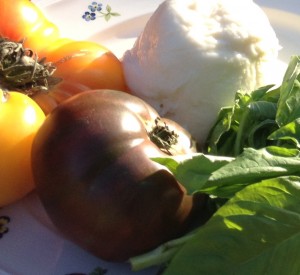 Ingredients
2 or 3 heirloom tomatoes, or fresh vine-ripened tomatoes
1 large ball of mozzarella—I suggest bufala—about a pound
Extra virgin olive oil
Fresh basil, a handful
Here we go…
Slice the tomatoes into circular slices, about a ¼ inch thick.
Slice the mozzarella the same way.
Grab a small flat plate.  We're going to make individual servings.  Put a slice of tomato flat on the plate.  Put a slice of mozzarella on top.
Grab another slice of tomato, preferably a different color.  Lay it on top of the first slice of mozzarella.  Put a slice of mozzarella on top of the second slice of tomato.
One more time!  Grab a slice of tomato, lay it down, pit a slice of mozzarella on top.
If my math is correct, you'll have three slices of each.
Drizzle some olive oil on top.
Add some salt and fresh cracked black pepper.
Grab some basil leaves and a pair of scissors.  Snip some basil right on top of the tomatoes and mozzarella.
Make as many individual plates as you can, this usually serves four.  Unless you're in my family…this would feed one of those monsters.
Serve with some crusty bread, and…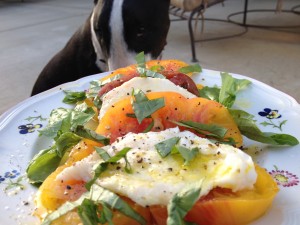 MANGIAMO!!!!!!!!